What Kin Kan Do stands for
Kin Kan Do describes the values that our services are built upon:
Kin  – Our family values 
We're a family-run business, so we bring that dynamic to the work we do. We believe in looking after our customers' homes as we would our own.
Kan  – Our expertise
We stand by our top-quality equipment and highly trained staff, guaranteeing a great result every time we carry out property maintenance to your home.
Do  – Our 'can do' attitude
Our efficient booking service reinforces our promise to turn up when we say we will, come rain or shine. We'll always finish the job to the highest standards – only the best for our great customers.
Our logo matches our 'can do' attitude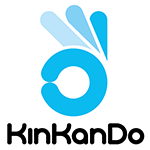 Our logo imitates the 'OK' hand gesture, signifying the positive attitude of our staff and their and commitment to doing a great job, every time.
The 'OK' sign is also a reflection that our services are OK for the environment:
we use pure, detergent-free water wherever possible
we plan our service routes to reduce our carbon footprint as far a possible
we help homeowners maintain their properties to make them stand the test of time for as long as possible.
Why did you choose blue for your company colours?   
Our uniforms, logo, and website are all a variety of blue shades – this is because of the fresh, clean and clear nature of the  property care services we provide, whether it's window cleaning, fascia cleaning or conservatory cleaning with our water-fed poles or pressure washing patios and drives to make them look like new. The water we use is free of chemicals and harsh detergents, as we work to be as environmentally friendly as possible in the services we provide, only using chemicals if we feel it is necessary for your property care. We've evolved our offering to include a wider range of services, but cleansing pure water is at the heart of the initial services on which we founded Kin Kan Do and which has informed our development in providing pure, clear solutions for our clients.
Our brand is important to us, as it sets us apart from the rest and demonstrates how committed our team is. The 'can do' attitude of Kin Kan Do makes us determined to bring sparkling results to your property every time.
Interested in our services? Visit our gutter clearing , solar panel cleaning , and other essential property care services pages , Get A Quote or contact us .